Hickory Construction Injury Lawyer
Every year, thousands of people working in the construction industry suffer all types of injuries at work. Based on available statistics from the Occupational Safety and Health Administration (OSHA), the North Carolina Industrial Commission (NCIC), and various other agencies and organizations, construction is the most dangerous field for anyone to work in based on the number of injuries reported each year.
Helping Hickory Clients Recover From Construction Injuries
Any construction injury has the potential to be life-changing for the victim. A severe painful injury can lead to expensive medical treatment, and they may not be able to work for an extended time until they fully recover. This damage can compound into a desperate situation for the victim and their family, and unfortunately, this compels many victims into agreeing to lowball settlements that do not fully compensate for their losses.
When you have M. Reid Acree, Jr., represent you in a construction accident case, we will do everything we can to streamline each phase of your recovery efforts, help you understand the legal technicalities of your case as clearly as possible, and guide you to the best possible outcome in your recovery efforts. Whether you expect to file a workers' compensation claim, a personal injury case, or both in response to your construction accident, we can help.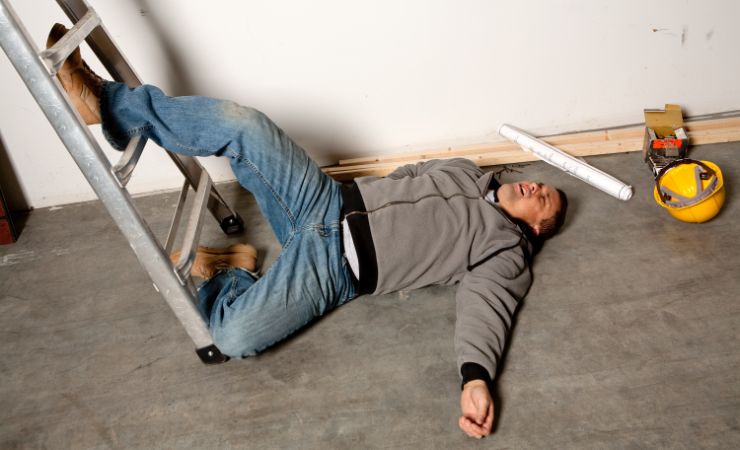 Benefits of Hiring a Hickory Workers' Compensation Attorney
The workers' compensation claim filing process may seem manageable on your own, and it is possible to file your claim without the help of an attorney. However, it is always possible to encounter unexpected resistance to your claim, and you could also face the risk of settling for less than you legally deserve. In addition, it would be difficult for anyone to manage a complex recovery process after a serious injury on their own, especially when they must handle difficult legal proceedings while suffering the pain and stress of their injury.
When you hire a Hickory workers' compensation attorney, they will handle your case proceedings on your behalf while you focus on your recovery. As a result, the claim filing process will be easier to complete in a timely fashion, and if you encounter any resistance from the insurance carrier, your legal team can resolve the matter on your behalf. In addition, when determining benefits for your claim, your attorney will ensure it aligns with your employer's policy and appropriately addresses the scope of your damages.
An additional benefit to hiring a Hickory construction injury attorney is that your recovery may not end with your workers' compensation claim. While this does not apply in every construction injury case, it is possible to have grounds for a civil suit after completing the workers' compensation claim process. Unfortunately, many injured workers could overlook this opportunity if they tried to manage their recovery efforts alone, potentially losing substantial compensation for their losses. Therefore, when you choose M. Reid Acree, Jr., to represent you in your construction injury recovery efforts, our goal is to help you recover to the fullest extent possible under North Carolina law.
Commonly Reported Construction Injuries in Hickory, NC
The construction industry is statistically the most dangerous industry based on the number of injuries reported each year. Some of the most common types of construction injuries in Hickory include:
Falls. Workers must have appropriate safety equipment when they need to use ladders, scaffolds, harnesses, lifts, and any other devices meant to help them reach high places. The damage from a fall usually depends on the height and how the victim hits the ground.
Electrocutions. Construction requires potentially dangerous tools and machinery, some of which can deliver damaging or fatal electric shocks. It is also possible for a construction worker to suffer an injury due to working near an incomplete electrical system that does not have the safety features found in a completed system.
Heavy equipment injuries. Many tools used by construction workers every day are easily capable of inflicting traumatic injuries. Crushing injuries, broken bones, puncture wounds, lacerations, and many other injuries can result from mishandled or poorly maintained construction equipment.
Vehicle accidents. Construction often requires various vehicles, including front-end loaders, forklifts, dump trucks, boom lifts, and excavators. Any mishandling of these large vehicles can potentially cause a devastating accident.
Injuries from chemical exposure. It's possible for construction workers to develop illnesses and have acute medical responses to exposure to various chemicals in a construction site.
Injuries from falling objects. Construction workers are required to wear hard hats due to the prevalent risk of injuries from falling tools, debris, and other objects. A hard hat can potentially mean the difference in surviving a head injury of this nature, but any type of head injury from a falling object can easily cause serious complications for the victim.
Third-party injuries. Whenever a third party outside of your work causes an injury while you are performing your job duties, this can form the basis of a third-party personal injury claim. After securing as much of a recovery as possible through the workers' compensation claim process, a third-party personal injury claim can substantially enhance your recovery. However, you may only file a civil claim in response to a work-related injury under specific conditions.
There are many other ways for construction accidents to happen in the construction industry, and no matter how your recent accident happened, you should know how to secure the compensation you need to recover. The right attorney is an invaluable asset for all of the recovery efforts you must pursue after a construction injury in Hickory.
Filing a Workers' Compensation Claim in Hickory
The workers' compensation system exists to provide a financial safety net and job security to injured workers throughout the United States. Each state enforces unique workers' compensation laws, and while some states only require certain employers to maintain workers' compensation insurance coverage, North Carolina requires almost every employer to have this insurance. When a workplace injury happens, the victim must report the incident immediately to their supervisor, and the supervisor is legally required to provide the injured worker with the claim forms and other materials needed to file their claim for benefits.
Workers' compensation may not provide complete compensation for all of the victim's damages, but it can be a valuable and expedient source of recovery that helps the injured worker manage the initial aftermath of their injury. The injured worker must submit to a medical examination from a workers' compensation doctor, and the doctor will assign the worker a disability rating that reflects the scope and severity of their experience.
Once the worker completes the necessary prerequisites, they can file their claim to their employer's insurance company. This is a similar process to filing any other insurance claim, and it is always possible for the insurer to find reasons to reduce a claim payout or outright deny a claim. This is one reason it is important to have trustworthy legal representation. A Hickory construction injury attorney can help you streamline the claim filing process and obtain any supporting documentation you will need to submit for review. They can also resolve any controversies regarding your case, such as an unfair denial of benefits.
Benefits Available Through Workers' Compensation in Hickory
After your claim is submitted to the workers' compensation insurance carrier and it has been approved, the insurance company will deliver their determination of benefits. Two forms of compensation are typically offered to the claimant. The first is medical expense coverage, and most workers' compensation insurance carriers covering employers will pay for all the medical treatment an injured worker needs to reach maximum medical recovery. The second is disability benefits, which compensate the injured worker for the income they cannot earn during their recovery period. 
Disability benefits are awarded in four formats in North Carolina:
Temporary total disability benefits are awarded when a claimant cannot work until they recover. The most they can receive is about 75% of their average weekly wage earned prior to their injury every week until they are able to resume their job duties.
Permanent total disability benefits are rarely offered and only apply when a worker is left permanently unable to work because of the injury's severity. An insurance carrier is likely to offer a large lump sum settlement in lieu of an ongoing benefits arrangement for this type of claim.
Temporary partial disability benefits can be awarded to a claimant who is able to work after their injury, but the injury prevents them from earning the same amount of income they earned prior to the injury occurring.
Permanent partial disability benefits are usually "permanent" in name only, but they can extend for many years when the claimant has suffered an injury severe enough to prevent them from earning as much as they did prior to the injury but not severe enough to prevent them from working entirely.
Total disability benefit payments hinge on the amount of income the claimant usually earns, and this calculation considers their prior year of work. For example, if the claimant typically earns $1,000 per week, they could receive up to $750 in weekly temporary total disability benefits. Partial disability benefits are more flexible but also more difficult to maintain. The amount the claimant receives depends on the difference between what they earned before the injury and what they are able to earn after the injury. The claimant must regularly submit records of their earnings and reports of their medical updates to maintain this type of coverage.
When you choose M. Reid Acree, Jr., to help you file your workers' compensation claim, our goal is to help you secure as much compensation as possible for your injury. While there are limits to how much you can expect in benefits, the right attorney can assist you in maximizing your benefits determination. Additionally, if you encounter any unexpected adverse treatment of your claim, unethical actions from the insurance company, or if you have grounds for further legal recourse beyond your workers' compensation claim, it is best to have reliable legal counsel assisting you with these issues.
Filing a Third-Party Personal Injury Claim
Most injured workers cannot sue their employers for their construction accident injuries. However, if an employer does not have workers' compensation insurance as required by state law, they are fully liable for their injured workers' damages and could face a personal injury claim. It is also possible for an employer to face a personal injury action and criminal charges if they caused the injury in question intentionally somehow.
Further, it is possible to file your workers' compensation claim and still have grounds to file a personal injury claim when a third party caused your injury. For example, construction workers often work with subcontractors and other parties to help them with their cases, and if any such party caused your recent construction accident, you have the right to seek accountability.
A third-party personal injury claim can help you recover compensation for the damage your workers' compensation claim won't cover. For example, workers' comp may provide full coverage of immediate and ongoing medical expenses, but it may only cover a portion of your lost income. With a third-party personal injury claim, you can seek the remainder of your lost wages and compensation for lost future earning capacity. Additionally, you can seek pain and suffering compensation from the defendant that reflects the severity of your experience and the scope of long-term or permanent damage you face.
It's important to understand North Carolina's contributory negligence law if you intend to file any personal injury suit in response to a construction injury. Under this statute, a plaintiff cannot file a civil claim for damages if they are partially responsible for causing those damages. Therefore, even if the plaintiff is found just 1% at fault, they lose the right to file a personal injury case. Many find this excessive and unfair, but ultimately you will require the help of an experienced Hickory construction injury attorney if you have been accused of bearing partial fault to any degree.
Personal Injury Law FAQs
Q: How Much Does It Cost to Hire a Hickory Construction Injury Attorney?
A: M. Reid Acree, Jr., understands that you are likely concerned about how much it may cost to hire legal counsel to help you recover from a construction injury. For both workers' compensation claims and personal injury claims, we accept clients' cases on a contingency basis. You pay nothing for our services if we cannot recover compensation for your losses. Our fee is a percentage of the final case award when we succeed with your case.
Q: What Is the Most Commonly Reported Construction Injury in Hickory?
A: The construction industry accounts for most workplace injuries reported in the United States each year, and falls are the most commonly reported construction injuries. Construction workers typically need to navigate unfinished structures, use ladders, and climb scaffolds for work. Some may need to use harnesses and lift systems to reach high places. Falls can be tremendously damaging or fatal depending on the height of the fall and how and where the victim lands.
Q: What Happens if I'm Responsible for My Construction Injury?
A: If you caused your own workplace injury through an honest mistake, you are likely still eligible to file a workers' compensation claim. However, this does not apply if you caused your injury through a willful act of negligence or through failure to comply with a workplace safety policy. For example, if you injured yourself because you were working while intoxicated by alcohol, you would likely be disqualified from filing a workers' compensation claim.
Q: Can I File a Lawsuit for a Construction Injury?
A: North Carolina's workers' compensation laws typically prevent you from suing your employer for a workplace injury if their workers' compensation insurance covers you. However, there are exceptions to this rule, such as intentional harm or failure to maintain insurance coverage. You could also have grounds to file a third-party personal injury claim after your workers' compensation claim if a third party outside of your work caused your injury.
Q: Why Do I Need to Hire a Hickory Construction Injury Attorney?
A: Hiring an attorney to help you recover from your construction injury is an investment into your own future. You face a very difficult series of legal proceedings without legal counsel you can trust if you intend to secure the best results possible. Working with a Hickory construction injury attorney means you will have a reliable legal advocate ready to answer your questions, address your concerns, and provide ongoing support and guidance through all stages of your case.
M. Reid Acree, Jr., has years of experience helping clients in Hickory and surrounding communities of North Carolina with complex construction accident cases. Whether you anticipate filing a workers' compensation claim, experienced any retaliation from your employer, or believe you have grounds for a personal injury case, we can help. Contact our team as soon as possible to schedule a consultation with a Hickory construction accident attorney.