Lexington Foot and Ankle Injury Lawyer
Any unexpected injury can be painful and costly, but injuries to the feet and ankles are especially debilitating. If you or someone you love is trying to get over a foot or ankle injury that you recently suffered due to the actions of another party or while working, it is likely that you have legal options for seeking recompense for your losses. An experienced Lexington foot and ankle injury attorney is an ideal resource to consult in this situation, as they can help you determine your best options for legal recourse.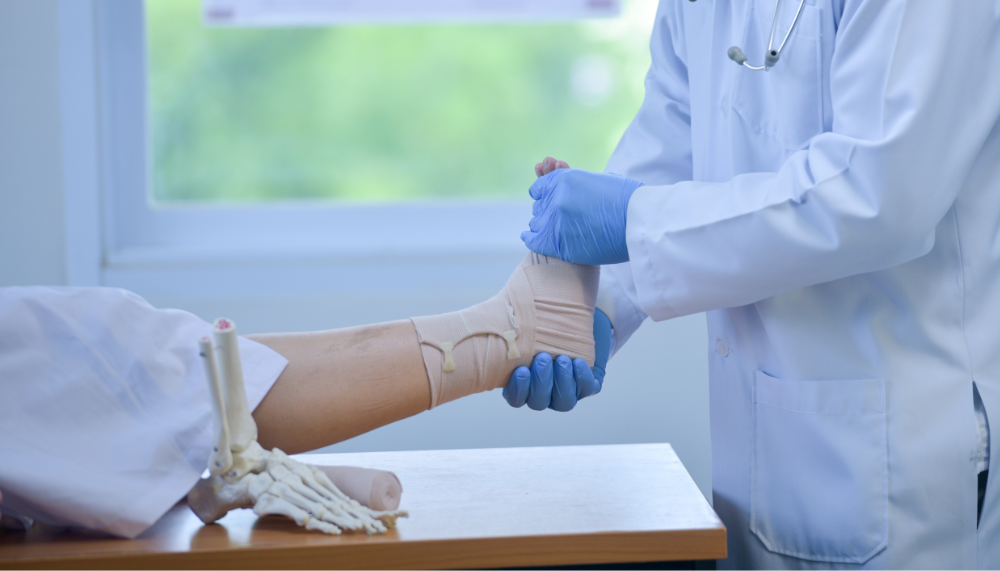 Legal Representation for Lexington, NC, Foot and Ankle Injury Claims
Depending on how your foot or ankle injury happened, you could have more than one option for recovering your damages. Experienced legal counsel is a tremendous asset that will help regardless of your case proceedings. M. Reid Acree, Jr., can offer the comprehensive legal team you need to secure maximum recompense for your damages. Our firm has helped many past clients recover from foot and ankle injuries sustained in their workplaces and in accidents caused by the negligence of others.
It's natural to have lots of legal questions after experiencing any serious injury, especially one that may result in long-lasting or permanent medical complications. If you have trouble walking, standing, and working after a foot or ankle injury, an experienced lawyer can help you determine the best options for recovering your losses. North Carolina enforces strict workers' compensation laws, and you probably have grounds to file a claim if your injury occurred at work. However, if it happened in a car accident or some other act of negligence from another party, you would likely need to pursue the responsible party through a personal injury claim.
Common Types of Foot and Ankle Injuries
Many people take their feet and ankles for granted until they start experiencing pain or have trouble with mobility. However, when the foot or ankle sustains an acute traumatic injury, such as a broken bone or a damaged tendon, the victim may require extensive medical treatment and face a long recovery time. As a result, they may not be able to work for an extended period and struggle with basic everyday tasks.
Foot and ankle injuries are common in many workplaces. Individuals working in construction, delivery, transportation, and various other industries face daily slip and fall hazards. Unfortunately, it's also possible for serious foot or ankle injuries to happen in seemingly safe work environments like retail stores and office buildings. In addition, broken bones, soft tissue damage, nerve damage, and many other medical conditions can impair the feet and ankles from functioning correctly.
It's vital to seek medical treatment promptly after foot or ankle injuries. If you were hurt at work, you must report the injury immediately and see a physician approved by your employer's insurance carrier as soon as possible. You can visit any doctor in an emergency, but once you stabilize, a workers' compensation doctor must examine you and assign you a disability rating.
If you were not injured at work and believe another party caused your injury, it is equally important to seek medical care immediately. This will ensure you address pressing medical concerns before they worsen, and you will have a record proving you sought prompt treatment. An experienced Lexington foot and ankle injury lawyer can then assist you to determine your best options for legal recourse.
Potential Complications of a Foot or Ankle Injury
The most commonly reported symptom of foot and ankle injuries in North Carolina is difficulty walking. Some foot and ankle injuries can make it difficult for the foot to bear weight without causing the victim severe pain. Many foot and ankle injuries will require extensive medical treatment that entails a long recovery time. For example, significant damage to the Achilles tendon can be incredibly debilitating and require surgery to fix. As a result, the victim could face several months of inability to walk.
Your foot or ankle injury will likely impact your life in more ways than just your medical treatment costs. Many foot and ankle injuries make driving difficult, and some victims will be unable to stand and move around unassisted until they recover. Even when some victims make the best recoveries they can, they still experience ongoing symptoms like chronic pain and nerve damage that never fully heals.
Your Lexington foot and ankle injury legal counsel can carefully assess the effects your foot or ankle injury has had and help you secure appropriate compensation for the injury. This may entail a workers' compensation claim, a personal injury suit, or both. M. Reid Acree, Jr., can give you the comprehensive legal representation you need to recover from your foot or ankle injury, no matter what your case may entail.
What to Do After a Foot or Ankle Injury at a Work Accident
If you were hurt at work in Lexington, NC, the state's workers' compensation laws ensure that almost all employees injured at work have the right to file workers' compensation claims for benefits that help them recover. You must report your injury to your employer as soon as possible. In an emergency, they may become aware of your injury naturally as you seek emergency medical care. Once the employer knows about your injury, they must create an official incident report.
Seek medical care as soon as possible and visit an approved workers' compensation doctor for your examination if required by your employer's insurance carrier. If you have any legal concerns about your medical examination with the workers' compensation doctor, discuss them with your attorney before proceeding further with the claim process.
While it's technically possible to file a workers' compensation claim without legal counsel, doing so would be very risky, especially if you sustained any permanent damage. In addition, the workers' compensation claim process is complex and functions similarly to most other insurance claims. Having legal representation for the claim process will significantly improve your chances of success with your claim and reduce the chances of any clerical errors or administrative issues delaying your receipt of benefits.
How Do Workers' Compensation Benefits Work?
An injured worker covered by their employer's workers' compensation insurance can typically expect two forms of coverage from a successful workers' compensation claim. First, the insurance carrier will cover the cost of any medical care required to fully heal the injury and manage any persistent symptoms. Second, the injured worker can potentially receive ongoing disability benefits for the time they cannot work.
In most cases, ongoing disability benefits in North Carolina are awarded at a maximum rate of about two-thirds of a claimant's average weekly wages. It is also possible to qualify for partial benefits if an injury does not prevent the victim from working entirely but does limit their earning capacity, potentially making up the difference in their income. Permanent disability benefits are also possible but are rarely awarded and only available to claimants who have suffered tremendous catastrophic injuries resulting in permanent disabilities.
Filing a Personal Injury Suit for a Foot or Ankle Injury in Lexington
The workers' compensation laws of North Carolina prevent injured workers from pursuing lawsuits against the people who employ them over workplace injuries. However, if a business lacks workers' compensation insurance as required by state law, or if that business caused the injury intentionally somehow, the injured worker could have a valid basis for a civil claim against their employer. Similarly, if anyone outside the workplace caused the injury, the victim could start a workers' compensation claim since the incident happened while they were working, but they would also have a basis for a third-party personal injury claim against whoever caused their injury.
Success with any personal injury claim in North Carolina requires identifying the defendant and proving they caused the plaintiff's injury through negligence or intentional misconduct. The personal injury laws of North Carolina allow the plaintiff to seek full compensation for any economic losses they sustained as well as recompense for their pain and suffering. When a foot and ankle injury victim qualifies to file both a workers' compensation claim and a third-party personal injury claim, the latter can secure damages that aren't available through the former, enhancing the claimant's total recovery.
Compensation for Your Foot or Ankle Injury Accidents Claim
When you have grounds to pursue a personal injury claim in North Carolina, you must be prepared to explain the total economic damages you are seeking with your civil action. Generally, plaintiffs in personal injury claims can expect recovery from all economic losses directly resulting from the defendant's actions. For example, your economic damages for a foot or ankle injury could include:
Medical treatment costs. Workers' compensation may cover your medical care costs, but you can file a claim against the defendant in a personal injury claim accountable for any additional medical expenses you cannot claim through workers' compensation insurance or other insurance coverage.
Lost income. A foot or ankle injury can be extremely painful and cause many problems in the victim's personal and professional life, including preventing them from working. Workers' compensation can offer coverage for a portion of the income the victim loses while they cannot work. In addition, if they have grounds for further legal action, they can secure the remainder of their lost income and recompense for their lost ability to earn money because of a permanent disability.
Property damage. If the defendant also damaged or destroyed the plaintiff's personal property, the plaintiff could seek to be paid back for all repair or replacement costs.
North Carolina's personal injury laws also allow personal injury victims to seek recompense for their pain and suffering. For example, injuries to the ankles and feet are not only incredibly painful but also often pose a host of long-term complications and can easily lead to permanent symptoms. Your Lexington foot and ankle injury lawyer will be able to help you determine a fair amount of compensation to seek in your personal injury suit that reflects the severity of your experiences.
Another important North Carolina law to remember in a foot or ankle injury claim is the state law regarding contributory negligence. Under this law, a plaintiff may not recover damages in a civil claim if they bear any fault for causing those damages. If a plaintiff is found to be even 1% at fault in a personal injury claim, they risk their entire case award. Your Lexington foot and ankle injury legal team can help you address any concerns you may have about bearing contributory negligence for your recent foot or ankle injury.
What to Expect From Your Lexington Foot and Ankle Injury Attorney
The right attorney is invaluable when facing a complex recovery process after a serious foot or ankle injury. Whether you face extensive ongoing medical care, permanently diminished earning capacity, or various damages, you need legal counsel you can trust to help you recover as fully as possible from your experience. The sooner you speak with an experienced Lexington foot and ankle injury lawyer, the sooner they can begin building your claim.
M. Reid Acree, Jr., has years of experience providing comprehensive workers' compensation representation and can guide clients through complex personal injury proceedings. Our team will carefully review the details of how your foot or ankle injury happened, the scope of the resulting damage, the medical care you require, and whether workers' compensation is an option for your recovery.
We understand that your damages are likely severe, and you may be concerned about how much it would cost to hire a Lexington foot and ankle injury attorney to handle your case. M. Reid Acree, Jr., offers contingency fee billing in workers' compensation and personal injury cases, meaning the client pays no legal fees unless they win their case. The contingency fee is a percentage of the final case award, ensuring the client's recovery.
If you desire to take legal action after a foot or ankle injury someone else caused, or if you must resolve a workers' compensation claim after a foot or ankle injury at work, we can help. Contact M. Reid Acree, Jr., today and schedule your consultation with a Lexington foot and ankle injury attorney.