Statesville Workers Compensation Lawyer
Most avenues of employment carry the risk of injury. However, your employer has the responsibility to provide you with certain protections that can mitigate those risks. When proper protections, training, and processes are in place to prevent injury, and an injury still occurs, you may be entitled to workers' compensation.
In North Carolina, injured employees who file workers' compensation claims are entitled to assistance with medical bills, portions of lost wages, and other needs that may be a result of the injuries they sustained at work. The state began offering benefits to employees beginning in 1929. Since then, any business with more than three employees is legally required to carry workers' compensation insurance. According to the North Carolina Workers' Compensation Act, employers that fail to carry insurance for such claims could face:
Substantial fiscal penalties
Misdemeanor or felony criminal charges
Prison time
These policies apply to independent contractors and subcontractors alike. Even companies that hire subcontracting companies are required to extend their workers' compensation insurance to those subcontractors if they do not carry their own policy.
With the help of M. Reid Acree, Jr., your claim will get the attention it deserves throughout the process.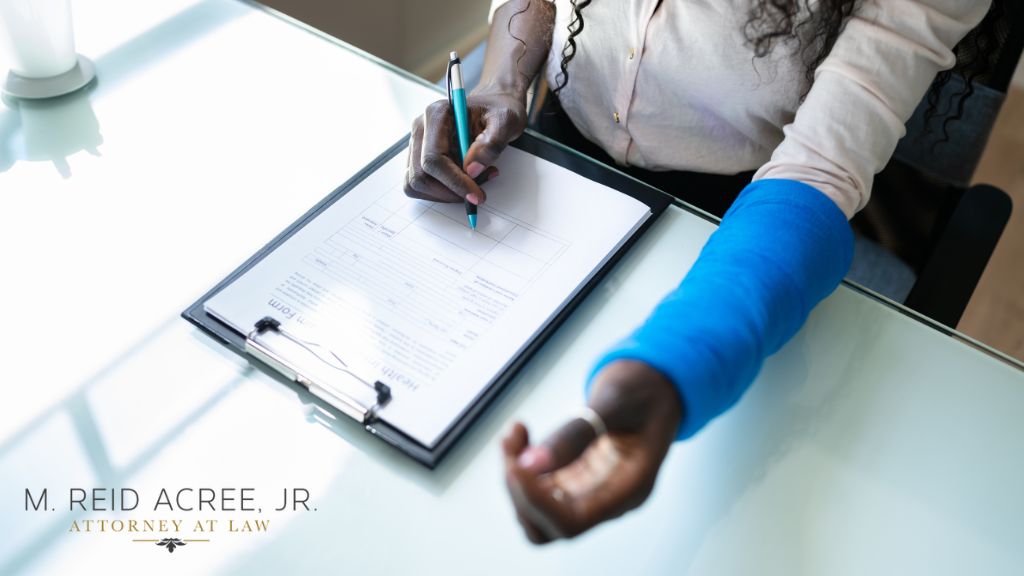 Workers' Compensation Coverage
The North Carolina Industrial Commission is responsible for handling both coverages and disputes in claims. There are two main claims that are involved:
Medical Bills: Most medical bills associated with your claim are generally covered by workers' compensation insurance. This not only includes any medical bills for the initial injury and diagnosis, but also the care or medications that are required to help with recovery or long-term assistance. When you file a workers' compensation claim, your employer's insurer should have a list of approved medical providers that can assist with your claim. You do have the option of seeking a second opinion. However, if you choose to proceed with your choice of doctor, you will need approval from your employer or to petition the North Carolina Industrial Commission to approve their care.
Disability Benefits: This benefit applies if you are out of work for seven or more days. With this benefit, the workers' compensation insurance may compensate you up to two-thirds of your average weekly wage, up to a maximum amount. Your disability benefit could last up to 500 weeks and is untaxed. However, if your employer can provide light-duty jobs that you can still complete, or you are medically cleared to return to work, then you will not qualify for the benefit.
In addition to these two main benefits, injured workers who may be deemed permanently or totally disabled may be entitled to future medical payments and expenses.
There are also situations and factors that are not covered. These include pain and suffering or any injury that was caused by your own negligence, recklessness, or intention. Your workers' compensation attorney can discuss any personal injury benefits or claim options that may be available to you for injuries sustained in these circumstances. They can also help you explore any options for reporting your injury to organizations such as the Occupational Safety and Health Administration (OSHA).
Common Work Injuries
There are many ways injuries can occur on the job. Types of injuries that can be sustained include:
Back injuries
Slip and fall injuries
Head and brain injuries
Strains and sprains
Occupational diseases
Permanent disability
Spinal injuries
Neck injuries
These injuries can be caused by a singular incident, or they could be compounded over time until revealing themselves. When actions are repeated, they could cause injuries or pain that result in the swelling of muscles and tendons. If you believe that you have sustained a work-related injury, you should consult a medical professional. They can identify your injury and determine its cause. They will also document their findings, which can be vital in a workers' compensation claim.
Types of Workers' Compensation Disabilities
If you are injured on the job, there are two categories that are used by the state to determine the types of benefits you may qualify for. The ratings are:
Temporary Disability: There are two subcategories recognized in North Carolina. The first is Temporary Total Disability (TTD), which indicates that an employee is unable to work at a given time, but with proper medical treatment, they will be able to return to work. Temporary Partial Disability (TPD) is the other category, which means that you can return to work, but in a limited capacity and often in a different role than you had originally.
Permanent Disability: This rating also contains two subcategories: Permanent Total Disability (PTD) and Permanent Partial Disability (PPD). PTD indicates that your injuries are permanent and will prevent you from returning to work. PPD means that your injury will always have some impact on your ability to work.
The category that applies to your situation will be determined by a medical professional.
Steps to Take If You Are Injured
If you are injured on the job, there are several steps that you should immediately take to protect yourself and to begin your claim process.
Tell your employer: Reporting the injuries that you sustained as quickly as possible is important. You have 30 days to inform your employer of your injuries. Your report should include your name, the date the injury occurred, and a description of what happened. This can be reported in an email or through an internal form if your company provides one.
Get medical care: As with any injury, you want to seek medical help sooner rather than later. The priority for work-related injuries is not holding your employer accountable but protecting your health. This starts with short-term medical care, which may prevent the need for long-term care. After you notify your employer of your injury, they will assist in connecting you with a doctor to help you receive medical care. It is important that you follow through with all recommendations from your doctor, including medications and follow-up appointments. These medical documents are important for your workers' compensation benefits.
Keep track of expenses: Your expenses include not only medically related ones but also miles driven to meet with doctors or therapists as needed. Additionally, keep track of receipts from pharmacies, providers, and purchases of medical devices. These will show proof of the expenses you paid because of your injury. To be reimbursed, you must show that you paid for these expenses.
Get a doctor's note: Providing medical documentation is important to your claim. While your medical file is privileged information, having written documentation for work you miss is vital to being able to receive payments for missed work. You must have a doctor's note to claim disability.
Hire a workers' compensation attorney: When you file a workers' compensation claim, it is important to seek the advice of an employment attorney who specializes in workers' compensation. Not only can they help you be sure that you are meeting the requirements for workers' compensation, but they can also discuss any other options you may have.
How a Workers' Compensation Lawyer Can Help
Unfortunately, many people attempt to handle their workers' compensation claims without the help of an experienced attorney. This could be because of any of the following reasons:
They are told by an insurance adjuster that an attorney is not needed.
They are discouraged from hiring an attorney because they assume that they cannot afford one.
There is a belief that the system's regulations and safeguards mean that an attorney is not needed.
There could be a fear that hiring an attorney could spark retaliation by the employer.
However, these misconceptions only delay getting you the help that you need to resolve your claim. These assumptions are incorrect because:
The employer often fears an attorney's knowledge because they may be trying to settle the claim for as little as possible. This could prevent you from receiving your full benefit.
The workers' compensation process is complicated and could be difficult to understand because of the nuances of the law.
An attorney's participation in the process cannot spark retaliation because there are laws in place to prevent such behavior.
No matter how big or small a work-related injury may be, having the professional help of an experienced attorney is vital. They can ensure that all your rights are protected and your full benefits are received throughout the process.
Statesville, North Carolina Workers' Compensation Attorney
Injuries on the job can leave you filled with more than just pain. They can cause worry and stress as to the affordability of care and the continuation of working or doing the things you enjoy. While North Carolina has enacted laws to protect workers, these laws can be complicated and difficult to understand. When you hire the services of an experienced and knowledgeable attorney, you can help ease those concerns and make sense of the law. M. Reid Acree, Jr., has the resources available to answer your questions and provide you with the representation that you deserve.
With clients throughout the Carolinas, our team knows how to help. We can review your claim and determine the best method for securing the benefits you need. Get started today by contacting our offices.