Charlotte, NC Construction Injury Lawyer
At M. Reid Acree, Jr., Attorney at Law, we routinely serve clients involved in workplace injury cases, including construction site injuries. There are several complex components to consider when filing for a claim related to a worksite injury, including determining who is liable and what type of claim to file. Our experienced team is familiar with the intricacies involved in these cases and has been specializing in representing clients in workplace injury cases for over a decade.
After being involved in an injury on the job, you are likely dealing with adjusting to life with new physical and emotional challenges, so adding the stress of attempting to fight a legal case on your own is a daunting thought. We are passionate about making a difference in the lives of people who are hurting after sustaining injuries on the job and understand you may not be able to handle another burden at this time. If you have been injured in a Charlotte construction accident, you have options when it comes to obtaining compensation, and our skilled workplace injury lawyers can help.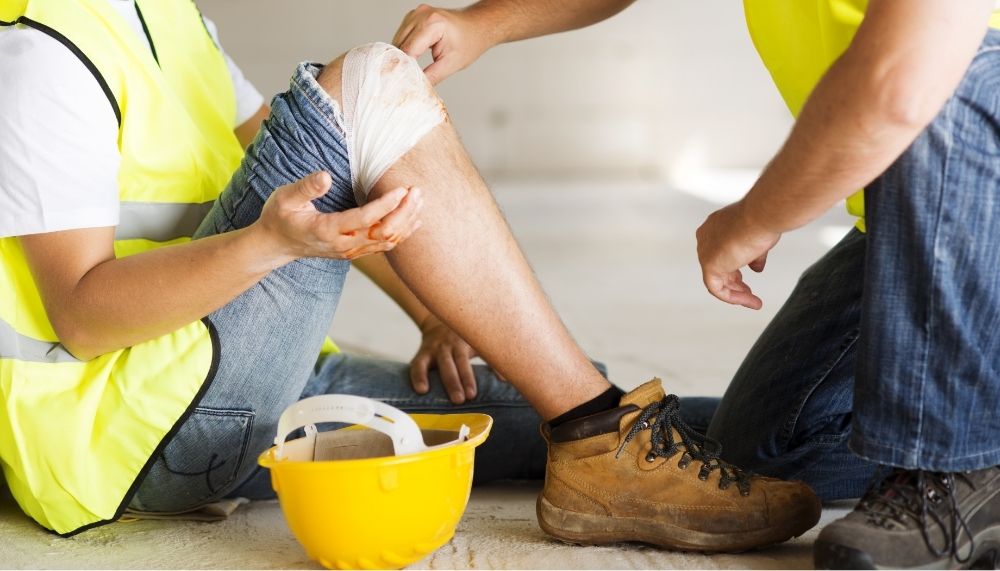 How Does OSHA Protect Construction Workers?
OSHA stands for Occupational Safety and Health Administration, which is a federal government agency that works to ensure safe working conditions for employees, including those on construction sites. Federal laws entitle everyone to a safe workplace, and employers must follow set health and safety standards. If you are a construction worker and you are concerned about health and safety on the job, it helps to know your rights under federal law. Employees have the right to:
Speak up about unsafe conditions and hazards without the fear of retaliation
Be protected from toxic chemicals on the job
Request your site be inspected by OSHA
Receive proper safety equipment for the job you are doing, such as helmets, gloves, and harnesses
Review records of workplace injuries and illnesses
If you are being denied any of the rights above or feel your construction site is unsafe, you can contact OSHA confidentially to report your concerns and request an inspection. It is illegal for your employer to punish you for reporting a complaint to OSHA, and you can file additional complaints if you feel you have been retaliated against after reporting your complaint.
Who Is Liable for Injuries Sustained in a Construction Site Accident?
The primary source of compensation following a construction site accident that leads to injury comes from your employer. This is generally through their workers' compensation insurance which employers are required to hold in North Carolina. This benefit often covers medical expenses, loss of wages, and compensation related to any resulting permanent disabilities due to your work injury.
If your workplace injury is caused by a third party, such as a subcontractor, manufacturer, or faulty equipment, liability may be on them. If that is the case, a workplace injury attorney can guide you through filing a claim against a third party to cover additional damages resulting from your personal injury sustained on the job. Some of the scenarios where a third party could be liable include:
Construction Site Owners: Depending on the degree of control the owner of the site has on the work being conducted, they could be liable for injuries that occur on the site.
Engineers and Architects: If the duties in their contract state they are responsible for overseeing their plans are being followed, engineers and architects could be liable for an injury. This is especially so if their plans result in injury, such as if a poorly designed building collapses during construction, resulting in injuries on the site.
Manufacturers: If a product used on a job site, such as a tool or piece of machinery, is defective or fails to list safety risks associated with its use, a manufacturer of that product could be liable for injuries sustained while using it.
Contractors: Federal regulations require contractors and subcontractors to provide workers with reasonably safe construction sites and to warn of hazards at the site. They are also required to ensure safety regulations are being followed. If these duties are not being followed and an injury occurs under their watch, they could be liable for the damages.
Types of Construction Accident Lawsuits
Depending on the injury you sustained, there are different claims you may pursue. Injury attorneys can help determine which claim or claims may apply to your situation if you've been involved in a Charlotte construction accident.
Workers' Compensation
Generally, employees injured on the job are not able to file a lawsuit against their employer. Since workers are entitled to benefits provided by workers' compensation insurance, injuries proven to be sustained on a job site should lead to compensation benefits through the employer.
Unfortunately, employers' compensation insurance companies may try to settle cases for less than an injured worker deserves or use company doctors who have a differing opinion regarding your injury. Having an attorney review your claim can help to ensure you are filing correctly and filing for what you deserve. An attorney can also help file claims against your employer if they are unlawfully blocking you from accessing compensation benefits after a workplace injury.
Personal Injury
If your construction site injury involved the negligence of a third party, such as a contractor (not your employer), or an equipment manufacturer, you may be eligible to file a claim against that third party. This is beneficial because these claims can lead to additional compensation that isn't covered under a workers' compensation claim. Compensation for damages such as pain and suffering, loss of spousal companionship, and loss of future earnings capacity could all be sought against a liable third party.
One example of a personal injury sustained on a construction site that could result in bringing forth a third-party liability claim involves the negligence of another subcontractor. Consider you are working as an electrician on a high-rise construction site at the same time an elevator contractor is working on the elevator. You've just completed your electric work on the 15th floor and are ready to take your equipment to leave the site for the day.
You are unaware the elevator is being serviced on the 12th floor, and the contractor hasn't turned the elevator off or posted any signage regarding their work. After pressing the button, the elevator doors open with a "ding," and you back in with your equipment cart, as you assumed the car had arrived. To your surprise, you fall three floors down and land on top of the elevator car, resulting in an injury. A third-party claim against the elevator contractor would be warranted due to their negligence in failing to disable the elevator doors.
Product Liability
As a construction worker, you trust that the tools and equipment you are using on the job are safe and working properly. If your construction site accident was caused by the failure or defectiveness of another company's product, you may be able to file a claim against that company. Malfunctioning or defective equipment could be large or small, from nail guns to cranes and everything in between. Generally, product liability claims fall into three categories: negligent manufacturing, negligent design, or negligent marketing.
Similar to a personal injury claim, workers' compensation can cover some of the damages sustained in a workplace injury caused by defective or malfunctioning equipment. A claim against a third party can seek compensation for damages that aren't covered by workers' compensation insurance. This could include damages such as loss of quality of life, pain and suffering, loss of earning capacity, and disfigurement, to name a few.
An example of a workplace injury that could warrant filing a claim against a product manufacturer is an injury sustained from a ladder with a high center of gravity. If you can prove the manufacturer was negligent in their design, you could win a case against them. It doesn't matter that the manufacturing was done properly; the design flaws resulted in an increased risk of injury. Negligent manufacturing that leads to injury, such as a wrung of a ladder breaking from underneath you due to improper welding during manufacturing, could also be a reason to file a claim.
Wrongful Death
If a loved one has been killed in a construction site accident, you may be able to file a wrongful death claim on their behalf to cover some of the ensuing damages.
Common Causes of Construction Site Injuries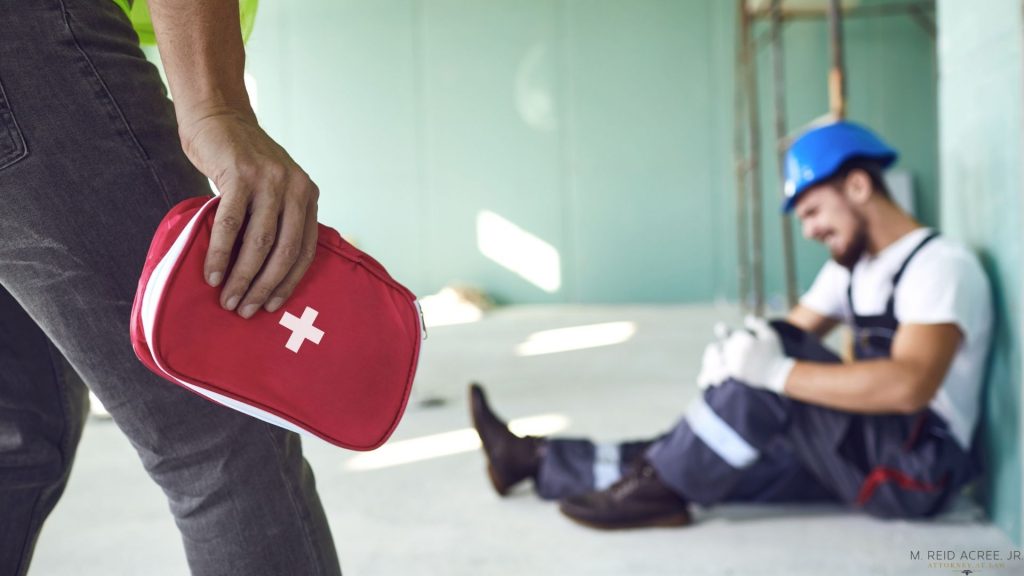 Construction can be a dangerous profession. Unfortunately, many injuries sustained on the job are of no fault on the part of the employee themselves. Construction workers face a variety of hazards daily, and some can lead to serious life-altering injuries or death. Some of the most common construction site accidents include:
Injuries caused by dangerous or defective products, such as tools, machines, and construction equipment.
Injuries caused by falling objects
Ladder accidents
Injuries caused by subcontractor negligence
Inadequate supervision leading to injury
Slips and falls
Poor safety precautions and oversight
Insufficient training, which leads to injuries
This list is not exhaustive. Any injury sustained on a job site should be reported and carefully examined to determine the cause. In some situations, workers' compensation may be the only benefit appropriate for a worker to claim. However, it is wise to discuss your case with a Charlotte injury attorney to ensure no other claims may be warranted.
What Should I Do If I'm Injured While Working on a Construction Site?
Being a victim in an accident is stressful and can leave a person feeling unsure about the steps to take to stay safe and ensure their future financial security. By following the steps below, you should be on your way to recovery and improve your chances of building a strong case if your injury warrants filing a claim.
Report the Incident
Following an accident, it is important to report the incident immediately for several reasons. Even if you think the injury or accident is minor, it is still important to report it since an injury could escalate later. Do not allow coworkers or supervisors to pressure you into not reporting an accident out of fear of punishment. This is illegal, and federal regulations require all workplace accidents to be reported.
Reporting the incident will be especially important later if you decide to file a case to attempt to get compensated for your injury. If the accident wasn't reported, it is like it never occurred. Not only is reporting an accident beneficial for you, but it may also help to prevent others from being injured in the same way if steps can be taken to make the site safer.
Seek Prompt Medical Care
Note, if your injury is more serious, this may be step one. Use your best judgment in getting the care you need as quickly as you need, including calling 911 if necessary. Even minor injuries should be medically diagnosed, as they could worsen over time. Being seen by a doctor is important, so there is a record of the injury that resulted from the reported worksite accident. Medical records can be used in court if you decide to file a claim after a construction site injury.
Gather Information From Witnesses and the Site
After sustaining an injury in a construction site accident, collect photos and witness accounts to begin building your case. If you are unable to return to the site due to your injuries, ask a coworker to take photos of the unsafe area where the injury occurred. A lawyer will want to complete an investigation as quickly as possible to ensure the most accurate witness accounts, so gathering the names and contact information of people who saw the accident is crucial.
Seek Workers' Compensation Benefits
Businesses in Charlotte and throughout the state of North Carolina are required to carry workers' compensation insurance to provide medical benefits to employees in the case of work-related accidents. If you are injured in a construction site accident, workers' compensation should cover medical treatment and lost earnings (to an extent). There is a significant amount of paperwork to file within certain time limits when seeking workers' compensation benefits, so be sure to act quickly and get the help of a workplace injury lawyer if you are not confident in your ability to accurately file this claim.
Contact an Experienced Charlotte Construction Accident Attorney
Dealing with the aftermath of a construction site injury is not easy physically or mentally. Adding a legal case on top of everything can add to the stress. Allow the team at M. Reid Acree, Jr., Attorney at Law, to assist you in investigating your case and determining whether additional claims could be filed. By hiring our experienced law firm, you can focus on recovering from your injury, knowing your case is being handled by an experienced workplace injury lawyer.
Do I Need a Lawyer for a Construction Workplace Injury Case?
While representation is not required, having a lawyer experienced in workplace injury can be important when it comes to getting what you deserve. Our attorneys are knowledgeable about state and federal laws regarding personal injuries sustained on construction sites, and we can determine which claims are applicable to your situation.
It is important to beware of insurance companies and liable third parties to attempt to settle your case as quickly as possible without going to trial. While we do our best to avoid lengthy trial cases, settlements are not always in the best interest of the injured, and these offers should be reviewed by a workplace injury attorney to ensure you are getting the compensation you deserve. With many years of experience in the field, M. Reid Acree, Jr. is aware of what compensation is fair when it comes to different types of construction site injuries. We will help you fight to obtain a fair settlement and represent you in a trial if necessary.
Skilled construction injury attorneys are also proficient in investigating these types of cases. An experienced attorney will complete a swift but thorough investigation by gathering and analyzing witness statements, reviewing medical and construction site records, and visiting worksites to help determine the party or parties liable for your injury. Through this investigation, we can assist you in deciding which type of claim to pursue.
Contact M. Reid Acree, Jr., Attorney at Law for Counsel and Representation
At Acree Law, we are experienced in workplace injury law, including construction site injury claims. We will listen to your situation and provide counsel regarding each of your options. Our skilled and committed lawyers will also represent you as you fight to obtain the compensation you deserve and require after sustaining a workplace injury. Whether you are seeking a settlement or require fighting your case in court, you can trust our team to aggressively pursue your best interests and take legal burdens off your shoulders as you and your family adjust to life after a workplace injury. Contact M. Reid Acree, Jr., Attorney at Law, today.