High Point Construction Injury Lawyer
Construction is one of the most vital industries in the country, and it is one of the most inherently dangerous for various reasons. If you or a loved one works in the construction field, it is vital to use all required safety equipment and to use caution in all job duties. Unfortunately, it is not possible to account for everything that might happen on a construction site, and the construction industry reports one of the highest workplace injury and fatality rates of any industry in the United States.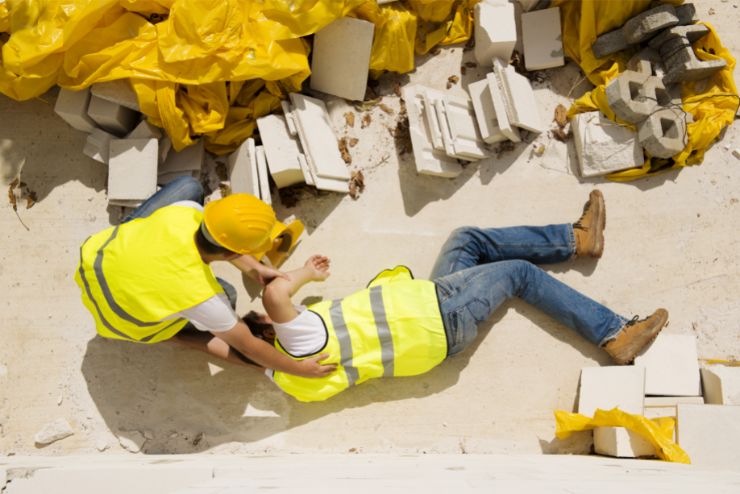 Legal Representation for High Point Construction Injury Victims
An injured construction worker could face a very challenging road to recovery, and their injury may have left them permanently disabled on some level that prevents them from working for an extended period. They might be left unable to work or live independently if they suffer a catastrophic injury. If you find yourself in this situation and need legal counsel you can trust, M. Reid Acree, Jr., can offer the client-focused and compassionate legal attention your High Point, NC case requires.
Benefits of Hiring a High Point Construction Injury Attorney
When you have experienced legal counsel advising you after any workplace injury in the state, you have a much better chance of maximizing your recovery than you would have on your own. In addition, your legal team can help you file your claim for workers' compensation benefits, resolve any issues you encounter with the insurance carrier, and help you explore further legal recourse if this is an option in your unique case.
M. Reid Acree, Jr., has helped many past clients recover from workplace injuries, including many in the construction industry. Our team knows the challenges you are most likely to face in your pursuit of compensation and can help you make more informed decisions about your recovery efforts. Construction accident injuries can be life-changing experiences with permanent effects, and our goal is to help you recover as wholly as the law allows.
Filing a Workers' Compensation Accidents Claim in North Carolina
Your High Point construction accident attorney can help you file your workers' compensation claim after an injury in the construction industry. A few of the most commonly reported causes of construction industry injuries in the High Point area include:
Falls. Many construction workers must navigate unfinished structures and high spaces, sometimes with specialized safety equipment. Unfortunately, many of these situations can easily result in devastating falls. The severity of the victim's injuries usually hinges on the height of the fall, where they land, and how they hit the ground.
Equipment failures. Construction equipment can be very dangerous in many ways. Any misuse of equipment or mechanical malfunction can easily result in devastating effects. Broken bones, crushing injuries, and damage to the face, eyes, and extremities are just a few possible effects of construction equipment malfunctions.
Traumatic brain injuries. Falling debris, dropped tools, and other falling objects can easily cause devastating head injuries, even if the victim is wearing an appropriate hard hat. In addition, any brain injury can be difficult to treat and has the potential to cause permanent complications for the victim.
Vehicle accidents. Many construction workers need to use various vehicles for work, and accidents can happen in many ways. For example, in the event a third-party driver hits a construction worker while they are driving for work, the victim can file for workers' compensation benefits since the incident happened during their job duties, but they could also pursue a civil claim against the third party responsible for their accident.
Electrocutions, which are capable of causing cardiovascular problems, severe burns, and nerve damage. Many construction workers must perform job duties around unfinished electrical fixtures and other electrical hazards. Some electrocutions are fatal, and others cause long-term or permanent medical complications.
Injuries from exertion. Construction is a physically demanding job. While many workers' compensation claims in the construction industry pertain to acute traumatic injuries, many others pertain to acquired medical conditions, illnesses, and injuries from repetitive motion. If you experience painful symptoms from a condition you believe you acquired through working construction, an attorney can help you determine the best recovery options available to you.
No matter how a construction accident occurs, the victim will have a much better chance of maximizing the compensation they recover with a High Point construction accident attorney assisting them. M. Reid Acree, Jr., will help you determine whether your employer bears any specific fault in causing your accident, whether regulatory requirements weren't followed, and identify any other special factors in your case.
Pursuing Further Recovery for a Construction Accident Injuries
While state law typically prevents an injured worker from filing a personal injury claim against their employer for a workplace injury, there are some exceptions to this. If an employer doesn't have appropriate workers' compensation insurance coverage or intentionally caused the injury in question somehow, they would face civil liability for the victim's damages. If a third party caused your injury while you were working, this qualifies as a workplace injury, but you would also have the right to file a separate third-party personal injury claim against whoever caused your accident.
If successful, a personal injury claim could recover compensation that you can't expect through workers' compensation. For example, if the defendant's actions caused injuries that force you to miss work, workers' compensation disability benefits may only be about two-thirds of your prior weekly wage. A third-party personal injury claim could help you recover the remainder of your lost income as well as pain and suffering compensation that reflects the severity of your experience.
What to Expect From Your High Point Construction Injury Attorney
Ultimately, the construction accident you recently experienced could be a life-changing event that imposes various challenges to you and your family. When you choose M. Reid Acree, Jr., to represent you in your recovery efforts, you will have the answers you need to your most pressing legal questions as you pursue compensation.
Our team has helped many past clients navigate very difficult construction accident claims. Whether you expect to file a workers' compensation claim, a third-party personal injury claim, or both, we can help. If you're ready to explore your options for legal recourse after a construction accident, contact M. Reid Acree, Jr., to schedule a consultation with a High Point construction accident attorney.